Walesby Summer Camp 2011
Posted on
Walesby forest Scout campsite is set in 250 acres of Sherwood Forest near Newark, the camp was decided on because of its close proximity to Sherwood Pines visitors Centre.
This gave us the opportunity to re-visit the area where Apex overnight was held and the chance to visit Go-Ape.
The centre also has a host of activities on site which gave us the chance for some Canoeing. Saturday started off with a leisurely breakfast ( they are teenagers and hard to get up) so by 10 o'clock every thing was washed and packed lunches made so it was a short drive to Sherwood Pines. Once there we had chance to have a look around before we were due to start Go-Ape and find a dry place to sleep if the weather took a turn for the worst.
Our time came so it was off to get kitted out with harnesses and get that all important safety brief, once this was done it was time to start the course. This was the easy bit (so they said) just a short climb up a rope ladder to the first platform. Then a short swing to another platform before a walk across another rope . All about 10 feet in the air (easy)
Followed by a slid down a long rope to a nice pile of wood chippings to bring you softly back to the ground.
This was done with a certain amount of ease and not a lot of effort (No Problem ! How wrong I was)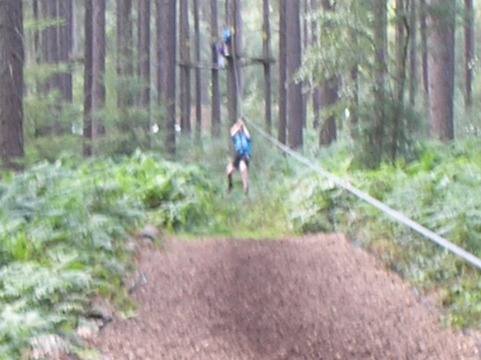 They got rid of the logs and replaced it with bits of rope. By this time we have gone from 10 feet up in the air to about 30 feet of nothing below and only a rope and harness to stop you having a rapid decent (I'm 47 for goodness sake and a volunteer Leader)
The problem with going up is that at some point you have to come down, to do this at Go-Ape it is done by zip wire and there are loads of them.
The whole course took us all about 3 hours and was enjoyed by us all, especially those who thought they had a fear of heights.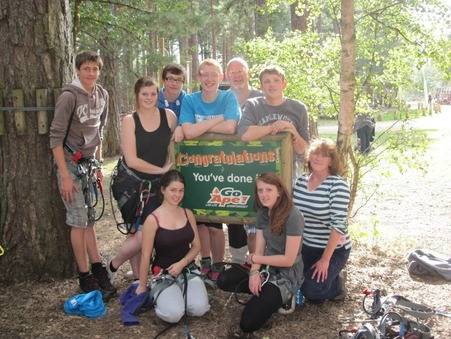 Once back at camp the Explorers found that some Hammocks had recently been purchased and they informed me that they would be spending the night under the stars. Whilst me and Cindy were enjoying a well earned cup of tea the Hammocks were set up.
As leader you get to sense when there is something going on as you get an eerie silence only broken with the odd giggle, so being the inquisitive type it was time to take a short walk and this is what was found along with a request to get some photographs.
Once the pictures had been taken the hammocks where rearranged in readiness for an early night after some random conversations.
After a good nights sleep under the stars and a hearty breakfast the guys were ready for their next challenge.
This would also run the gantlet of there being a bit of water involved. It was off down to the lake at Walesby in search of some water based activity in the form of Canadian Canoes, Not all seemed to take the canoeing serially and after a short while things got inventive or just good fun depending on how you look at it.
The whole weekend was voted by the guys as a massive success and when are we going away again.
At this point I must pass on my thank to Cindy my Assistant Leader and especially to the MARKET WEIGHTON PLAYERS whose Donation from the Pantomime would not of made the trip to GO-Ape and Canoeing possible THANK YOU